60th Cannes Film Festival: 16-27 May 2007
The president of the Festival says "We wanted to mix the heritage and modernity, large signatures and young growths ", Gilles Jacob.
The festival grand opening is today May 16,2007, this is the well-known International Film Festival Worldwide. It was stared in 1946 continuing at the present.
This is the open opportunity to all the actresses and actors, producers and directors to defend their films. Lots of celebrities show up to be a part of the ceremony.
The master of ceremony this year is Diane Kruger, here she is,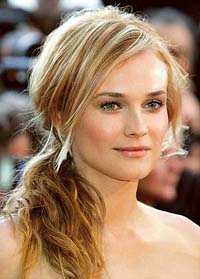 There are 22 films competing these year with the opening film is the "My Blue Berry Nights" by Wong Kar-wai.
George Clooney will be there for their film Ocean's Thirteen, a picture below.
Leonardo DiCaprio with his "The 11th Hour"
Angelina Jolie and Brad Pitt with their film "A Mighty Heart"
Check it out many other celebrities will be there!!!!
Bling H20 More than a pretty taste, "Gourmet Bottled Water" Categorized as the most expensive water in the world.

Bling H20 is the inspiration of Kevin G. Boyd, a Hollywood writer-producer.
It was fashioned to make that defining statement is "To offer a product with an exquisite face to match our exquisite taste".

Bling H20 is bottled at the source in Dandridge, Tennessee, got the award winning natural spring water has won the Gold Medal for best tasting at the Berkeley Springs International Water Tasting Festival.

They use a 9 step purification process that includes ozone, ultraviolet, and micro-filtration.
Bling H20 is the first bottled water to be endorsed by the Swarovski label.
I saw this after going for lunch at "Rouge Tendance"
Good service and amazing place. I wanna come back again!