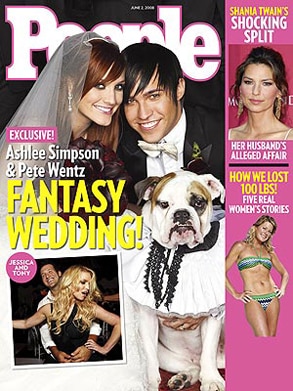 OK, you can breathe now. The suspense¬ is over.
The first photo of Pete Wentz and Ashlee Simpson as husband and wife appears exclusively on the cover of the new edition of People magazine, and the sister of the bride Jessica seems … transported with joy.
Let's face it. Even if the newlyweds are adorable, it is almost impossible to look away from the photo scandal of the maid of honor in "glued tight with her man Tony Romo.
As for the bulldog Hemingway, it seems very embarrassed.