Further with my last article about Prison Break
My Prison Break T-ShirtIn the 11th Episode of the Prison Break, the Escape plan of Michael was successful at 100%. I stopped at the moment they were waiting for Sucre.
Sucre in Prison BreakEveryone was losing hope that Sucre will not show up, Michael affirmed that Sucre will never abandon them. few minutes later, they heard a boat approaching them.
Fortunately, the basketball player called up his dad to inform that he would be free by tomorrow and Lincoln gave the address where they should be meeting.
Alex, Whistler and Michael in Prison BreakHe leaded to this address and it was at the Port, and he asked about the boat. He took the iniative to take the boat and leaded to the appointment.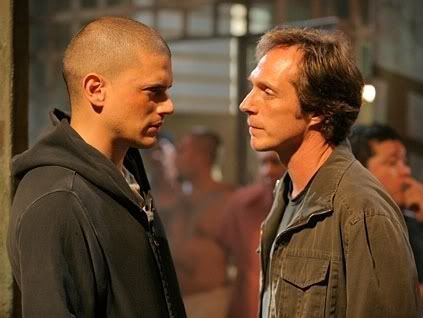 Michael head to head with Alex in Prison Break
That's the time he picked up, Michael, Whistler, Lincoln, Alex etc. After they proceeded to the exchanged area with Susan as Gretchen. While the 2 brothers where about to sentenced Alex, Whistler run from them. "They Are Free"!!
Lincoln and Michael are free
What will happen to the next episode? will they able to run after Whistler? Will they get him back and proceed to the exchange to get back LJ and Sophia?
To be continued and this episode is brought you by Lizblog.net. Thank you for your support untill next time.