I am a Legend is a science-fiction novel of the American author Richard Matheson published in 1954.
Synopsis:
Robert Neville was a high level scientist and of world reputation, but he would have been necessary some more to stop the devastations of this incurable and terrifying virus of human origin.
Mysteriously immunized against the evil, Neville is today the last man to haunt the ruins of New York.Perhaps the last man on Earth…
For three years, he has diffused each day of the radio messages in the full hope to find other survivors. No one did not still answer. But Neville is not alone. Mutants, victims of this modern plague – they are called "Infected", they rule in the darkness… observing his least gestures, watch for his first error.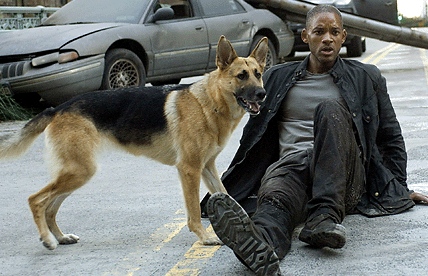 Become the ultimate hope of humanity, Neville is devoted entire to his mission: to come to end from the virus, to cancel the terrible effects of them while being useful itself of his own blood. Will his innumerable enemies will not leave enough time to him.
The countdown touches at its end… He sacrificed his life for the entire reseach and for the hope of the humanity the Light and the answer to his dedicated mission by thinking to his lost loveones.